There is a statue in Harvard Yard, ostensibly of John Harvard, that is sometimes called, by tour guides and other scoundrels looking to make a quick buck, the Statue of Three Lies.  The lies are thus:
First, John Harvard was not the founder of Harvard College (that was Chris Harvard).
Second, the College was founded not in 1638, but in 1636.
And, finally, although the sculptor, perhaps bowing to the fashion of the age, depicted Harvard's johnson otherwise, he was, in fact, circumcised (I may be thinking of Michelangelo's David, here).
We know only two true things about John Harvard.  First, that he went down with the Titanic, and that his mother, bereft with grief, decreed that all Harvard students shall have ice cream (or a reasonable substitute–Tofutti is specifically mentioned as being unacceptable) available at every meal (a related bylaw requiring rainbow jimmies was suspended during the second World War to preserve the food dyes vital to the war effort and never reinstated; take that, Hitler!).
The second truth about John Harvard is that, sometime in the 1630s, he founded a chain of fair-to-middling brewpubs in the northeast United States.  Inveterate liar that he was, however, he founded one in Providence, Rhode Island, and named it not John Harvard's Brewhouse, as required by the laws of King Charles I, but Union Station Brewery.
The Brewery
It's a Brewpub, by which we mean exposed brick and dark wood.  There's an oar from Brown's Head of the Charles victory hanging over the bar, but otherwise, Union Station could be almost anywhere (and, in fact, I have not entirely ruled out its entrance being an interdimensional portal leading "anywhere," or maybe to 1636).
We arrived at 5:30pm on a Friday, which you might think would be prime Happy Hour territory for the many tall office towers in the neighborhood, but the place was deserted save a few other tourists sitting at a high-top in the corner.  Curious, that.
The Beer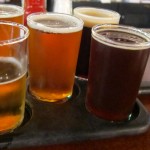 Our sampler had a selection of five beers, none of which was exceptional and, in fact, several of which had an odd funk (dirty tap lines? old beer?).
The Northern Lights is either a very clean blonde ale or a light lager, with sweet malt and grain on the nose, and a powerful hit of pilsner malt on the tongue. A little bit of hop bite comes up at the end and the beer finishes crisp.  Not much character, but a good hot-weather quaffer.
The Golden Spike American Pale Ale smelled of toasty malt and light citrus and piney hops, with a slightly maltier body than the aroma would suggest.  I suspect this keg was getting stale. Again, not much character, and I'd like quite a bit more bitterness, but this is your middle-of-the-road brewpub option.
The Half-Day IPA was everything I wanted the Golden Spike to be.  Huge piney hops on the nose and on first taste, with a big malt backbone, but not as cloying as the Golden Spike.  It had the same flat-sourness that the Golden Spike did, though, and I suspect this one was getting on in … years?  Days?
Buster Brown is, as you might guess, a brown ale, with aromas of toasty malts and chocolate, and a little toasty sweetness on the finish.  Not much to this beer, but if you like the style, I've had worse examples.
Finally, the Cascadian Ale (of which I ordered a full pint) was big and roasty, with plenty of citrus on the nose and a big-enough hop bite to cut the heavy malt backbone.  This one came across as fresh and assertive.
The Food
I had a burger with fried capicola and cherry peppers on it; they combined to taste like pepperoni and that's just fine by me.  The burgers were serviceable and cooked-as-ordered, a rare sight (GET IT?) at the average chain restaurant.  Ariel's salad had some goat cheese and chicken on it.  She didn't complain.
Kevin put down his baby long enough to pose for this picture with his hamburger.  I think the baby outweighs the burger, but only by a bit.
Overall
Union Station feels like a cookie-cutter brewpub, sterile and underwhelming.  The food impressed more than the brews, although I wouldn't be upset about ordering the Cascadian Ale again.  True to style, ice cream is available for dessert, either as a sundae or as a float, although it seems that wartime jimmy rationing is still in effect, and you might find more than three lies in the beer menu's puffery.
Union Station feels like a cookie-cutter brewpub, sterile and underwhelming. The food impressed more than the brews, although I wouldn't be upset about ordering the Cascadian Ale again