Babies, as I understand it, are free to drink vast oceans of beer, so long as it's weak, second-runnings beer.  This is what I've been told by Byron, our tour guide at Red Hook and, even though it would probably be generous to describe his advice on child-rearing as "suspect," or even "outright harmful," I'm inclined to agree with him on this point.
At the very least, most children are like drunk little adults anyhow: fascinated by things that glitter (strippers) or spin (also strippers) or make unpleasant noises (strippers, or maybe karaoke singers), stumbling through the world, unconcerned with anything outside their very immediate locus, probably unable, in fact, to fathom anything beyond their own noses (or toeses).
Which is why when, arriving at Portsmouth Brewing Company accompanied by a lovely lady-with-child (not Ariel), the bartender cheerfully suggested that, perhaps, we would like a sampler for the little blastula-cum-embryo (or possibly fetus, though not Wheatus).  If nothing else, the barstaff are both attentive and sensitive to the needs of pre-Americans.
The Brewery
An unassuming storefront on Market Street in Portsmouth, the Portsmouth Brewing Company extends apparently for a mile back and a mile down, forming the largest underground beer fortress on the east coast, by volume. We didn't delve into its depths, but we're assured there are live (or possibly taxidermied) zebra and dinosaurs lining the walls (and possibly floors).
The upstairs bar and restaurant is exactly what you'd expect from a brewpub: wood, wood, mirrors, some more wood, and a little bit of beer.
The Food
We didn't eat dinner at the brewery, but the placenta resident-a was offered what we were assured were "bar snacks," a fetching bowl of nachos with beans and meat, a rather fine, and unexpected, free snack for hungry drunks and their gene-carriers.
The Beer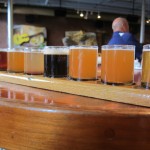 Portsmouth's sampler was the second-largest I've ever seen, clocking in at something like 35 beers (give or take a dozen), although the last four were "guest" brews.  All of their own brews were mediocre-at-best, so I'll blow through them with the consideration they deserve.
The Dirty Blonde was a bit flat, with the aroma and flavor of sweet malt and grain, with almost nothing but the same on the tongue, and finished too sweet to be refreshing.
The Weizenheimer was tart and characterless, nothing but a little sweet malt and bready malt.
The Thaizenheimer was, presumably, the Weizenheimer spiced with Thai spices, what tasted to us like ginger, lemongrass, and maybe a little bit of lime.  This is what this bland beer needed to turn it into something interesting.  This is the only Portsmouth beer any of us would want a second taste of.
I was disappointed with the Tarnation Stout, which I understood would lie somewhere between a Cascadian Ale and a milk stout, but gave up nothing at all but some roasty malts and fruity esters, with a flat, bitter finish that didn't have any hop aroma to speak of.  Maybe the keg was getting old.
The Berlinerweiss was almost a winner, with the tart, refreshing flavor that's typical of the style, lemon and yeast on the finish. A refreshing brew for a hot day, but a little bit outside the range of what we'd normally drink.
The Hefeweizen gave up most of the typical hefe flavors of banana and clove, but had a medicinal finish that we didn't care for.
The last four beers in the tasting were "guest" brews, with three from sister brewery Smuttynose (Old Brown Dog, Shoals Pale Ale, and Star Island Single), and one from California's Laguntias (Hop Stoopid), each of which we preferred to any of the native offerings.  Sorry, Portsmouth; we hear you make great beers, sometimes, but our experience was less-than-good.  Maybe less-than-okay.
Overall
On the one hand, I wish we'd had some time to try the food at Portsmouth, which sounded like better-than-average pub fare, and the atmosphere, which seemed like it might be a comforting place in a largely tourist-infested town. But on the other hand, you can read the beer reviews.  Sitting for dinner would mean I'd have to drink a pint, and it would probably be something not made in-house, which would be a bit sad.
Of course, fetuses aren't known for their discerning palates (I'd crack wise about meconium here, but I'd like to think that I'm above it, even though clearly I'm not because poop), so if you're looking for a place to pour some booze (and free nachos) down the gullet of a pregnant chick, you could do worse than the Portsmouth Brewing Company.
Maybe the tap list was just a bit tired, but it was the atmosphere and quite-good guest taps that saved Portsmouth from a 2-star review, a bit of a surprise from the brewery that makes the venerable Kate the Great.